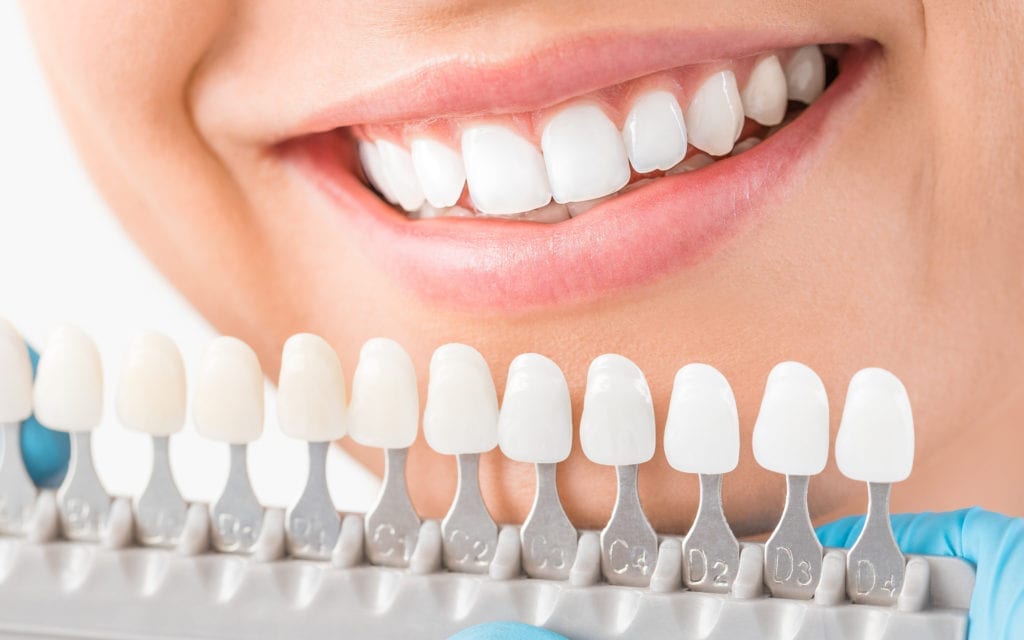 Dental veneers are custom-made shells of tooth-colored materials that are designed to cover the front surface of teeth. They are bonded to the front of the teeth, changing their color, shape, size, or length.
The dental veneer process usually requires three visits to the dentist. The first is a consultation, and the next two are to make and apply the veneers. One tooth or many teeth can be veneered at the same time.
To get ready for a veneer, your dentist will first change the shape of your tooth. This way, they can make room for the veneer and keep it level with the rest of your teeth. You and your dentist will decide if you need numbing medicine before they trim away the enamel.
Your dentist will make a model or impression of your tooth, which is then sent to a dental laboratory. They will make your veneer and it usually takes 2-4 weeks for the veneers to come back from the laboratory. If necessary, temporary dental veneers can be used in the meantime.
Veneers Qualifications
Not everyone is a good candidate for porcelain veneers, but they can be a great option for many people. If you're wondering if veneers would work for you, the best way to find out is to talk to your dentist. In most cases, anyone who wants to improve the appearance of their smile might be a good candidate for veneers.
Dental Cosmetics
The veneers can change the color, shape, and size of your natural teeth. While your teeth might not be great in appearance, if you have healthy gums and good bone structure, you are likely a good candidate for veneers.
Chipping and Staining
Veneers are a great way to improve the look of your teeth and address a variety of issues. They can help with chipping, staining, old restorations and fillings, uneven or narrow smiles, spacing problems, crowding, and bite issues.
Veneers are also a great option if you have staining from antibiotics or fluorosis. Because they are custom made, a quality cosmetic dentist can make sure they perfectly address all of your specific dental needs.
Veneers Disqualifications
Worn Down Teeth
Veneers aren't right for every situation. In some cases, other dental work needs to be done first. For example, veneers might not work right away if teeth are very worn down from grinding them. If the teeth are too worn down, it's hard for the veneer to adhere to the surface of the tooth.
Large Teeth Gaps
If you have large gaps in your teeth, it might be necessary to first have some orthodontic work done. The orthodontist moves the teeth to remove large gaps, then the cosmetic dentist can place the. Remember, the veneer has to adhere to your teeth. If you place a veneer on a tooth where there is a large gap, the gap will remain.
Small Jaw
There are other times when you might want to consider getting veneers, such as if your teeth are too crowded or your jaw is too small to support them. In these cases, you would first want to have an orthodontist move the teeth into place, and then get the veneers.
Veneer Recovery
You might feel some mild discomfort after your procedure, but this should go away quickly. You might also find that your teeth are more sensitive to temperature changes for a little while. Mostly, you shouldn't notice any difference except for your brand new smile.
Veneers are just like regular teeth in that they require the same amount of care. This means that you should keep up with regular dental visits and cleanings. You should also brush and floss regularly to keep your teeth and gums healthy. The better you take care of your them, the longer they will last.
Dental veneers are a great option for people who are looking for a more permanent solution. They are also not removable and stay in place once you have the permanent ones.
With proper care, including regular dentist visits, teeth brushing, and flossing, most veneers can last for 10-15 years. Some may even last up to 20 years. Eventually, you might forget they are not just your own natural teeth.
Customizable Veneers
Porcelain veneers can be a great way to boost your confidence and change the way your smile looks. But it's important to choose a dentist who knows how to create veneers that look and feel natural for your mouth.
You don't want your new teeth to look fake or feel uncomfortable. Work with a dentist who will take the time to understand what you want and create one that fit your needs.
People usually want their teeth to be as white as possible. However, that might not look natural on everyone. A cosmetic dentist can help you find the right shade of veneer that will look natural for you by taking into consideration the color of your other teeth and your skin.
Key Takeaway
Dental veneers aren't for everyone, but they can be a great option for many people. If you're wondering if veneers would work for you, the best way to find out is to talk to your dentist.